Regular Faculty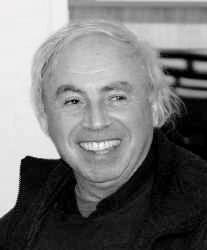 Pronouns he, him, his, his, himself
Title

Professor of Literature, Creative Writing, and Cultural Studies

Division Humanities Division
Department

Literature Department
Creative Writing Program

Affiliations Feminist Studies Department, East Asian Studies, Digital Arts and New Media
Phone

831-459-2401

 (Office)

,

831-459-1924

 (Message)

,

831-535-2929

Email
Website
Office Location

Humanities Building 1, Humanities 631

Humanities 1 631

Office Hours Via Zoom during Covid pandemic for 2020-2021, times to be arranged.
Mail Stop Humanities Academic Services
Mailing Address

Humanities 631, Literature Department
Santa Cruz CA 95064

Faculty Areas of Expertise

Poetry, Asian Studies, Ocean Studies

Courses Creative Writing (poetry); Borderlands Writing; World Pacific: Indigeneity, Oceans, Ecopoetics; Poetics of the Sublime; Bob Dylan as Poet; Rural and Urban Dialectics in the World Pastoral, San Francisco as Global City; Beat Literature and the World
Research Interests
Transnational and postcolonial literatures, especially as transformed in Asia/Pacific; Oceania and world oceans; cultural-political emergences as posited against US empire of globalization; cultural poetics of America in the Pacific and Oceania; the sublime, Longinus to Hiroshima; poetics of experimental writing, especially poetry; the poetry and cultural poetics of Bob Dylan; Beat beatitude, social and literary from Jesus to Juliana Spahr et al; "inter-Asian cultural studies" as a formation.
Biography, Education and Training
Rob Wilson is a Western Connecticut native who was educated at the University of California at Berkeley, where he received a doctorate in English in 1976 and was the founding editor of the Berkeley Poetry Review. He has taught in the English Department at the University of Hawai'i at Manoa (which proved formative to his own development as scholar and poet of Asia/Pacific becoming) and at Korea University in Seoul as a Fulbright Professor, and was twice a National Science Council visiting professor at National Tsing Hua University in Taiwan. In 2001, he became a professor of transnational/ post-colonial literature at the University of California at Santa Cruz. In the summer of 2009, he team-taught a summer seminar (with Chadwick Allen) at National Sun Yat-sen University in Taiwan on Pacific Cultural Production, counter-conversion, and the ecological framework of "Oceania." Advisory editor for boundary 2 and Inter-Asia Cultural Studies journals among others, his earlier works include Waking In Seoul; American Sublime; Asia/Pacific as Space of Cultural Production; Global/Local: Cultural Production and the Transnational Imaginary; Inside Out: Literature, Cultural Politics and the New Pacific; and Reimagining the American Pacific: From 'South Pacific' to Bamboo Ridge and Beyond. His study Be Always Converting, Be Always Converted: An American Poetics appeared with Harvard University Press in 2009 and was selected by Choice as an Outstanding Academic Publication. A collection of cultural criticism from Asia/Pacific (co-edited with Christopher Connery) The Worlding Project: Doing Cultural Studies in the Era of Globalization appeared with New Pacific Press/ North Atlantic Books in 2007; and Beat Attitudes: On the Roads to Beatitude for Post-Beat Writers, Dharma Bums, and Cultural-Political Activists was published by New Pacific Press in 2010 & reprinted with Kindle Books in 2021.
Rob Wilson has a book-length poetry book forthcoming in the "Transpacific and Archepelagic Poetry & Poetics" series When the Nikita Moon Rose (Kaohsiung, Taiwan: National Sun Yat-sen Press, 2021) in English with Chinese translations by Tee Kim Tong, Melody Yunzi Lee, Chih-min Wang; as well as a collection of cultural and literary studies co-edited with Kim So-Young of Korea and Serena Chou of Taiwan called Geo-Spatiality in Asian and Oceanic Literature and Culture: Worlding Asia in the Anthropocene (London & New York: Palgrave Macmillan, 2022). In terms of international academic service, he has been appointed to a two-year term to the Advisory Board for the Institute of European and American Studies at Academia Sinica in Taipei, Taiwan; and to a two-year term on the Asia/Oceania Regional Faculty Advisory Group to generate "Global Engagements" now that UCSC has become a new member of the Asia Pacific Research Universities consortium comprised of leading universities from 19 economies of the Pacific Rim known worldwide for their academic and research excellence. He is also coediting the following two special issues of international journals: Rob Wilson, Chih-Ming Wang, and Roxann Prazniak, ed. Inter-Asia Cultural Studies, "Arif Dirlik: The Radicalism of Possibility,"( London: Taylor & Francis,2021); and Rob Wilson, Christopher Leigh Connery, and Isaac Blacksin, ed. boundary 2: An International Journal of Literature and Culture, "Norman O. Brown: Into the Future," (Durham, NC: Duke UP, 2022).
Selected Exhibitions
http://www.hup.harvard.edu/catalog.php?isbn=9780674033436
Selected Recordings
https://www.academia.edu/video/lBJK0l
Selected Performances
https://www.academia.edu/video/lBJK0l